The heart of every home is in the kitchen. If the heart of you or your loved-one is filled with admiration for the famous multi-medium franchise, then why don't you invest in some of these Star Wars kitchen items! Don't worry, there is something in here for every fan, both young and old. This is your complete guide to building your ultimate Star Wars kitchen!
1, Darth Vader Apron
Fulfill your dreams about becoming the first infamous Sith Lord with this 100% cotton Darth Vader apron! Printed with the powerful chest-plate of the famous villain; this soft comfortable apron is adjustable for any recipient, and on top of all of this. It's machine washable! With this apron, you will surely rule the next backyard barbeque.
2, Lightsaber Immersion Blender
The lightsaber is the ultimate tool of both the Jedi's and Sith lords, and with this immersion blender you will surely bring balance to your various soups and salads. The force is strong with this 20 V/300 W DC motorized blender. Surely you will rule the galaxy.
3,

BB-8 Oven Mitts
Like the little droid himself, these BB-8 oven mitts are surely going to be a lot of help in the kitchen. For the ultimate Star-Wars fan in your life, you can take these into the kitchen or out to your next family barbeque! These mitts will be your ultimate companion.
4, Star Wars Death Star Spatula
That's no spatula! That isn't a moon either. Become a Barbeque master with this unique Death Star spatula. With these Star Wars kitchen items, you will annihilate your creations with flavor. Made with safe food-grade silicone this spatula is dishwasher safe and will be your tool to rule the kitchen!
5, R2D2, R2Q5 Salt and Pepper Shakers
Add Star Wars to your dining room table or kitchen counter with these R2-D2 and R2-Q5 salt and pepper shakers. Loveable and tiny, these Star Wars kitchen items will be quite the statement and conversation starters. These ceramic, refillable shakers will last until the next Star Wars reboot. These droids and your Star Wars fan will go through a lot with you.
6, Death Star Silicone Ice Mold
For any Star Wars party, chip your imported ice from the snowy plains of Hoth with this Death Star ice mold. Not feeling a giant ice ball? Don't worry. This mold will make the most deliciously devious cake. With this mold, the possibilities are endless in what you can make with this.
7, Death Star Tea Infuser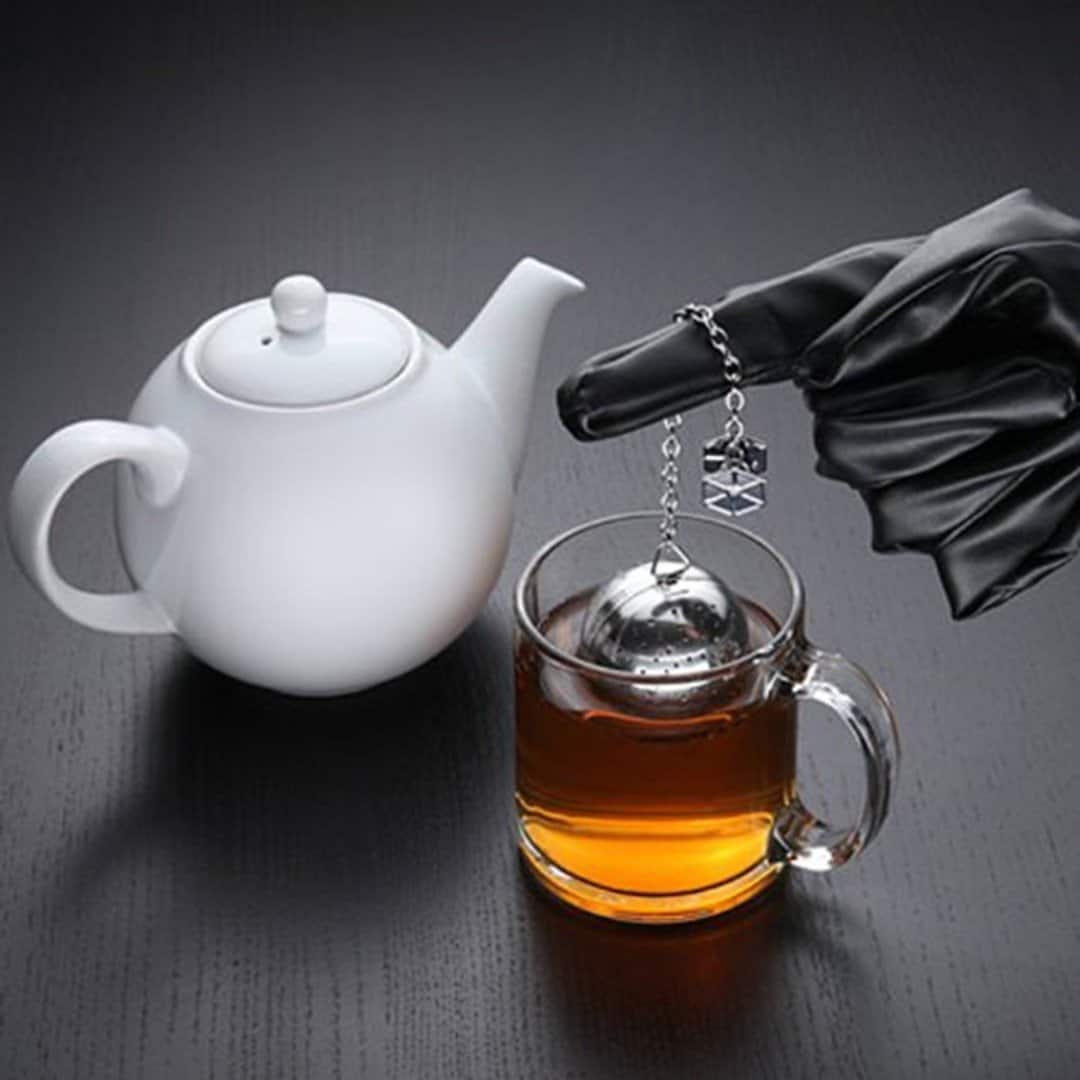 Before you go and blow up Alderaan, one must have their perfect cup of tea first. Molded into the shape of a death-star, this holds all of your favorite loose-leaf teas. Made of Stainless Steel with a chain-link (complete with TIE fighter charm at the end). The material makes this completely dishwasher safe.
8, Lightsaber Salt and Pepper Shakers
Bring balance to the force…of your next meal with these premium lightsaber salt and pepper shakers. Both are reusable shakers, made from high-quality stainless steel that will add that Star Wars flavor for years to come. Each shaker also has an adjuster to grind up sea salt or peppercorns.
9, R2D2 Lunch Kit
This little Astromech droid is perfect to accompany you or your little Star Wars fan wherever they should go. It comes to life with lights and real sounds from the movie! Made from Thermos, this will keep your food insulated throughout the long day fighting for the freedom of the Galaxy!
10, R2D2 Empire Toaster
As well as being the best Astromech droid in the galaxy, R2-D2 always makes the best toast. This two slice-toaster will provide you with the perfect breakfast while also printing everyone's favorite droid on the side of your toast or other various bagels and pastries. Let this little droid be your companion at every breakfast.
11, Death Star Kitchen Timer
Rekindle your love of the Galactic Empire with this Death-Star kitchen timer, this unique time-piece will emit a laser sound with a light after the end of every use. This is perfect for the expert chef who just can't get enough of Star Wars. Let this show your love for Star Wars in your kitchen.
12, Death Star Wine Bottle Stopper
Preserve the sweet nectar of the Empire's victory with this unique Death Star wine-stopper. This item will surely show your fandom pride at your next dinner party. Made out of a sleek metal, molded into the Empire's greatest weapon; this will surely be the crowning jewel of you or your favorite Star War's fan's home bar.
13, R2D2 Teapot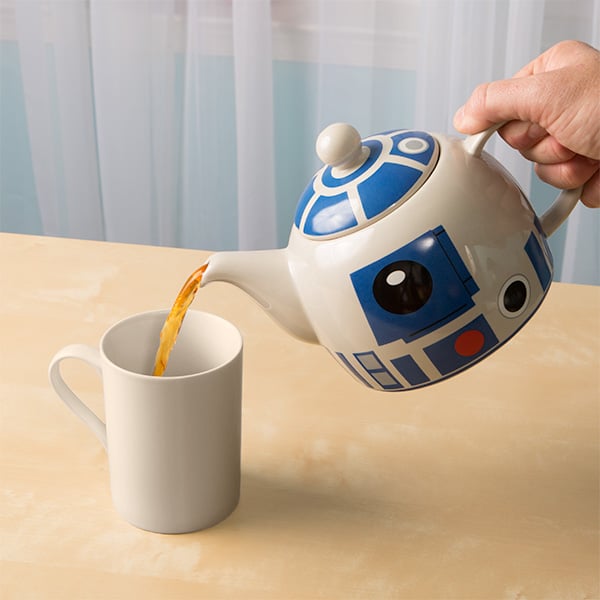 Every tea party can be a nerdy tea party with this R2-D2 tea pot with the removable lid! Painted with the head of the best astromech droid in the galaxy and made out of high quality dishwasher safe ceramic this can hold all of your favorite brews of tea.
14, Lightsaber Pizza Cutter
Lightsabers aren't just good for fighting, they're also good for cutting pizza! With this lightsaber pizza cutter, everyone will get a kick of the authentic lightsaber noises made while cutting the pizza! This Star Wars kitchen items is great for the super-fan in your life, or just to give the kids a laugh before dinner.
15, Darth Vader Chopsticks
Your next order of sushi will be absolutely amazing with these light-up lightsaber chopsticks. Complete with detachable blades for cleaning, these Star Wars kitchen items are the staple in any star-wars fan home. Available in the Darth Vader model, Luke Skywalker, Yoda, Asuka and EVA. You can wield your favorite character's lightsaber, while eating a spicy tuna roll.
16, Darth Vader Wood Cutting Board
Get a kick out of this joke with this Darth Vader Star Wars cutting board. Crafted in bamboo and laser-engraved, it's the pinnacle of kitchen equipment, perfect for your various cutting knives and awesome jokes! Absolutely perfect for any Star Wars fan in their life, or for them themselves.
17, Darth Vader Travel Mug
Travel to the far reaches of the galaxy with this Tervis Darth Vader travel mug! Made out of a high quality freezer-safe, dishwasher safe and microwave safe plastic it is perfect for any occasion. Painted with the face of the infamous sith lord, it is also made with Tervis famous insulation, keeping your hot drinks hot and your cold drinks cold.
18, Sculpted Death Star Coffee Mug
Add a little charm to your morning with this Death Star mug. Hand-painted on heat-insulating ceramic, this will surely make your mornings absolutely sinister. It is recommended that you hand-wash this mug to preserve the hand painted details on this mug. With its large capacity, it will hold all the power of your favorite hot beverage.
19, Star Wars Wooden Rolling Pin
Have a little fun with your next bake with this molded Star Wars rolling pin. It's perfect for your various cookies, and would be great for the littlest Star Wars fan in your life. It prints out your favorite characters into your dough or clay.
20, Sith Lord Cupcake Stand
Your next Star Wars party won't be the same without this cardboard cupcake stand. Featuring the menacing Kylo Ren, this can hold 24 regular sized cupcakes or dozens upon dozens of your favorite treats. This will surely stand out at your next Star Wars party and is also great for helping the planet.
21, Darth Vader Cookie Jar
Prepare to meet the fierce gaze of Darth Vader when you get caught sticking your hand in this cookie jar! Made of high quality plastic, this cookie jar also has a sensor that activates Darth Vader breathing noises when you open it. The inner jar is removable for washing. This quirky cookie jar will hold all of your treats for years to come. One of the best Star Wars kitchen items when you some snacks.
22, Darth Vader Hand Painted Glass
This beautiful and vivid hand-painted Star Wars glass is perfect for your cold brew, featuring Darth Vader and his signature lightsaber, it is perfect for the celebration of another glorious the galactic empire. With a high volume capacity this will be perfect for your next celebration, holding all your favorite beverages.
23, R2-D2 Popcorn Popper
R2-D2 is truly a droid of many talents, but this popcorn popper really comes in handy when you're about to sit down for a nice long Star Wars marathon. Using only hot air to pop the popcorn, you can relive the franchise knowing you'll be munching on a snack that is perfectly healthy. Must have Star Wars kitchen items when you are watching movies while enjoying the popcorn.
24, R2-D2 Measuring Cup and Measuring Spoon Set
R2-D2 maybe a help out on the battle-field defending the galaxy. But he's also a wonderful help in the kitchen. With this R2-D2 measuring cup set, you will never be without your favorite Astromech droid in your kitchen. With measuring cups measuring in 1/4, 1/3, 1/2, and 1 cup he will be your ultimate companion in the kitchen. As well as Measuring cups, he also has measuring spoons measuring in 1/4, 1/2, 1 tsp, and 1/3 tbsp. Made with a high quality food-grade durable plastic, it will surely accompany your family for years and years to come.
25, Star Wars Ice and Candy Molds
Add a little Star Wars flair to your next sweet treat or ice cube with these character molds. Ranging from R2-D2 to X-Wing fighters, these silicone molds are perfect for ice-cubes, candy, bath bombs or anything else your mind can come up with. Perfect for the kids and their birthday parties or for you and your next star wars marathon. These molds are durable and machine washable. Absolutely perfect for whatever the galaxy wants to throw at you. These 8 trays and whatever projects you make will surely be the talk of your next party.
26, Star Wars Han Solo Fridge
This fridge brings a whole new meaning to "frozen" in Carbonite. This Han Solo refrigerator is perfect for your man cave, nerd cave, office or dorm. This piece has 2 settings, perfect for keeping your food and drinks hot or cold. It can hold up to 17 cans of 12 ounce soda when you remove the shelves. With a locking door to prevent leakage of that Tibanna gas and the contents of your fridge, a handle for an easy carry. This fridge will most certainly become your most valuable prize in your collection.
27, Star Wars Trilogy Posters Kitchen Towel
I'm pretty sure George Lucas had no idea what kind of movie history he was making. The original Star Wars. Hold a piece of Star Wars history in your kitchen with these original trilogy movie poster kitchen towels. These 100% cotton towels feature the first movie posters released to the public at their respected release dates. Each towel employs a sense of sentimentality for the original fans of the original trilogy. They also showcase the history of this beloved and high-grossing franchise for any movie buff or pop culture junkie. With these towels, you will surely show your fangirl/fanboy when these hang on your oven door handle.
28, Star Wars R2-D2 Coffee Press
You can't navigate an X-Wing fighter without any coffee in your system. Let your favorite droid help you get through your early morning with this R2-D2 french-press. With a glass body and metal plunger, he can make you the humanly acceptable amount of coffee. 4 cups! The star wars kitchen items that are great gifts to coffee lovers & Star Wars Lovers.
29, Star Wars Snack Bowls
Serve up the snacks at your next Star Wars party with these ceramic bowls. These are made with high quality ceramic that is both dishwasher safe and microwave safe. Featuring your choice of Chewbacca, Jabba The Hutt or the Wampa, these quirky and unique bowls will surely be perfect for your next party.
30, Star Wars Darth Vader Metal Can Cooler
The force may not have balance. But Darth Vader can bring balance to the drink in your hand with this metal can cooler. This perfect device keeps your hot drinks hot and your cold drinks cold while making them bearable for human hands to hold. With this unique design, your drink's condensate will be able to drain perfectly.
31, Star Wars Candy Bowls
The dark side seems very tempting with these Star Wars Candy Bowls. Crafted in likeness to the helmets of both Darth Vader and his legion of Storm Troopers, you can't help but see the benefits of joining the dark side. Together you shall surely rule the galaxy. (And have some awesome candy too!)
32, Star Wars Death Star Serving Platter
Make your party a dark side party with this death star party platter! This ceramic plate is fashioned with the details of the most terrifying weapon of the Galactic Empire. Don't fret, it's both dishwasher and microwave safe. Surely, you will be the talk of the galactic empire's next holiday party. Mush have star wars kitchen items.
33, Star Wars Millennium Falcon and Death Star Magnet Set
Add a little Star Wars decorum to your office cabinets or your fridge at home with this adorable magnet set. The set includes the X-Wing fighter and Death Star with high quality magnets. This high quality polyresin material will last just as long as your love for Star Wars.
34, Star Wars Geeki Tikis
Star Wars goes perfectly with your next Hawaiian themed office party with these Star Wars tiki mugs. These tikis are available in all of your favorite characters: from Darth Vader and the Storm Troopers to Chewbacca and R2-D2. Mos Eisley has them at their bar, why don't you?
35, Star Wars Cookie Cutters
Your gingerbread men will never be the same with these Star Wars Cookie Cutters. But don't stop there! These cookie cutters of your favorite characters are perfect all year round. Make a clone army for your kids. Perfect for gingerbread dough and sugar cookies. Your delicious creations will bring balance to the galaxy. One of the best Star Wars kitchen items.
36, Star Wars Lightsaber BBQ Tongs
Your next barbecue will be the talk of the death star with these Lightsaber barbecue tongs. Inspired by the man himself, Darth Vader. These tongs' handles are beautifully crafted after his lightsaber, all included with a red lightersaber slip cover. Be sure to kiss the sith lord at your next backyard Barbecue!
37, Star Wars Lightsaber Ice Pop Maker
Summer will not be dull with these lightsaber popsicle makers. They come with both Luke and Vader handles. With the instructions to make your own lightsaber popsicle, it will surely be a warm season of epic lightsaber duels. When it's all said and done, you'll have a sweet treat at the end of it all.
---
Views