Believe it or not! Decorating with Star Wars canvas painting is an exciting way to bring the art into your home, or anywhere else you want to show off your Dark Side or Jedi street cred. Your living room, dorm room, or man cave will never be mistaken for a wretched hive of scum and villainy with these paintings.
Star Wars Darth Vader Canvas Painting
The shadowy Sith Lord Darth Vader, most iconic and tragic of movie villains, comes to life in this painting, as his lightsaber glows like a red eye, ready for a lethal strike against the Rebellion. Vader might be malicious, but just remember, beneath that imposing facemask lurks a conflicted soul.
Star Wars Movie Characters Canvas Painting
These colorful Star Wars canvas painting let you pick your allegiance. If you're a klutz, C3PO might be the way to go. If you're ready to follow orders and do the dirty work, then a Stormtrooper might be more your speed. If you're always dispensing words of wisdom, it's Yoda for you.
Star Wars Millennium Falcon X-Wing Canvas Painting
If you want to feel the chill winds of Hoth blowing over you, then look no further than this series of five prints. In striking full-color, see Imperial Walkers stomping through your living space, while X-Wings and Tie Fighters zoom overhead. May the Force be with all these brave pilots.
5 Panel Star Wars Millennium Falcon Wall Art Painting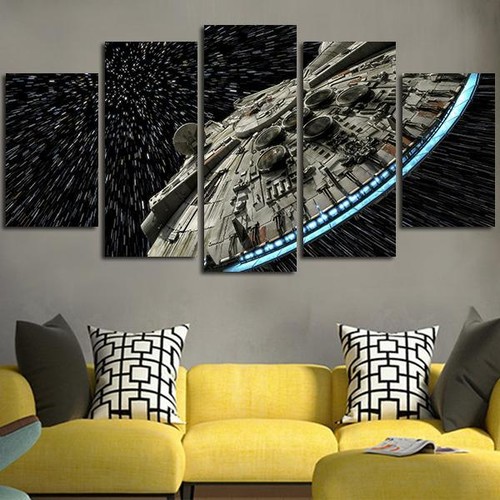 With these five gorgeous Star Wars canvas painting panels, the Millennium Falcon finds its way home to you, captured just in the act of making the jump to hyperspace. She'll make point-five past lightspeed, but hold on tight. It's always a bit of a bumpy ride with Han and Chewie at the controls.
5 Panel Star Wars Spaceship Wall Art Canvas Painting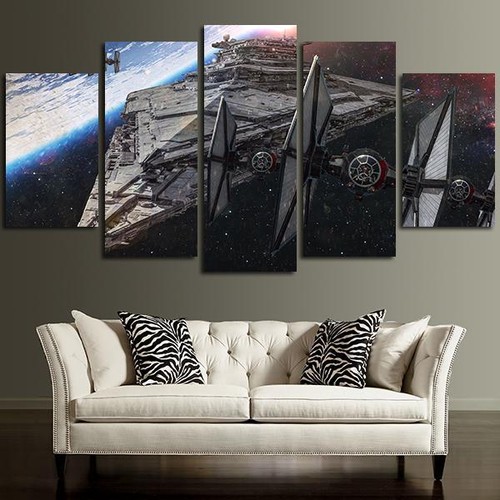 Strike up the Imperial March, these five panels are sure to have any rebels in your home quaking in their boots. This Star Destroyer looks realistic enough that you might get blasted right off your couch. It's even flanked by a few Tie Fighters, in case a dogfight breaks out.
Star Wars Spacecraft Canvas Print Painting

An eerie calm seems to follow this Imperial Destroyer, as it drifts out of the blackness of space, and takes aim at your den or bedroom. Who knows what mission this juggernaut of destruction is on? Any rebels had better tread carefully when this bad boy is in the neighborhood.
Star Wars Imperial Star Destroyers Canvas Wall Painting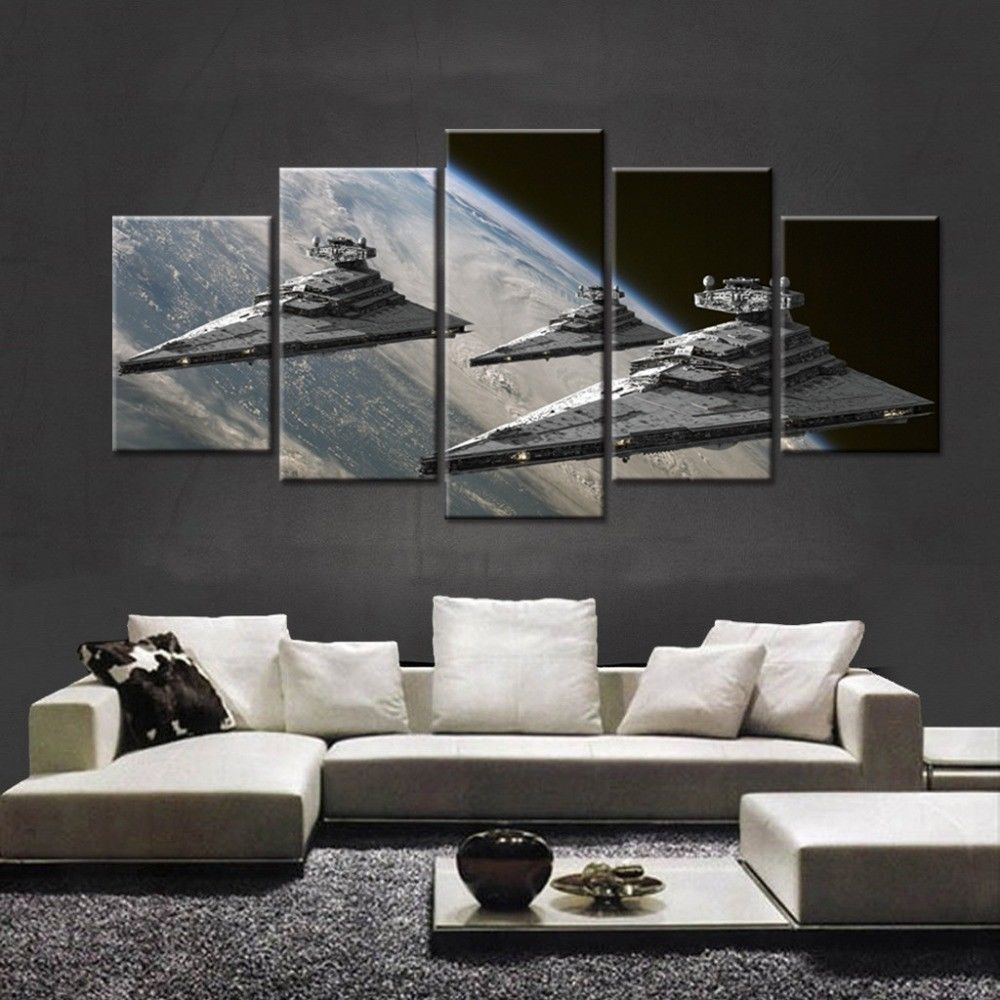 What's more terrifying than an Imperial Destroyer? How about three of them! That's what you're getting with this series of full-color prints. The majesty of these sinister hulks gliding through the starry sky will bring a chill to any party guest or innocent bystander whose glance happens to fall on them.
Star Wars Stormtrooper Canvas Painting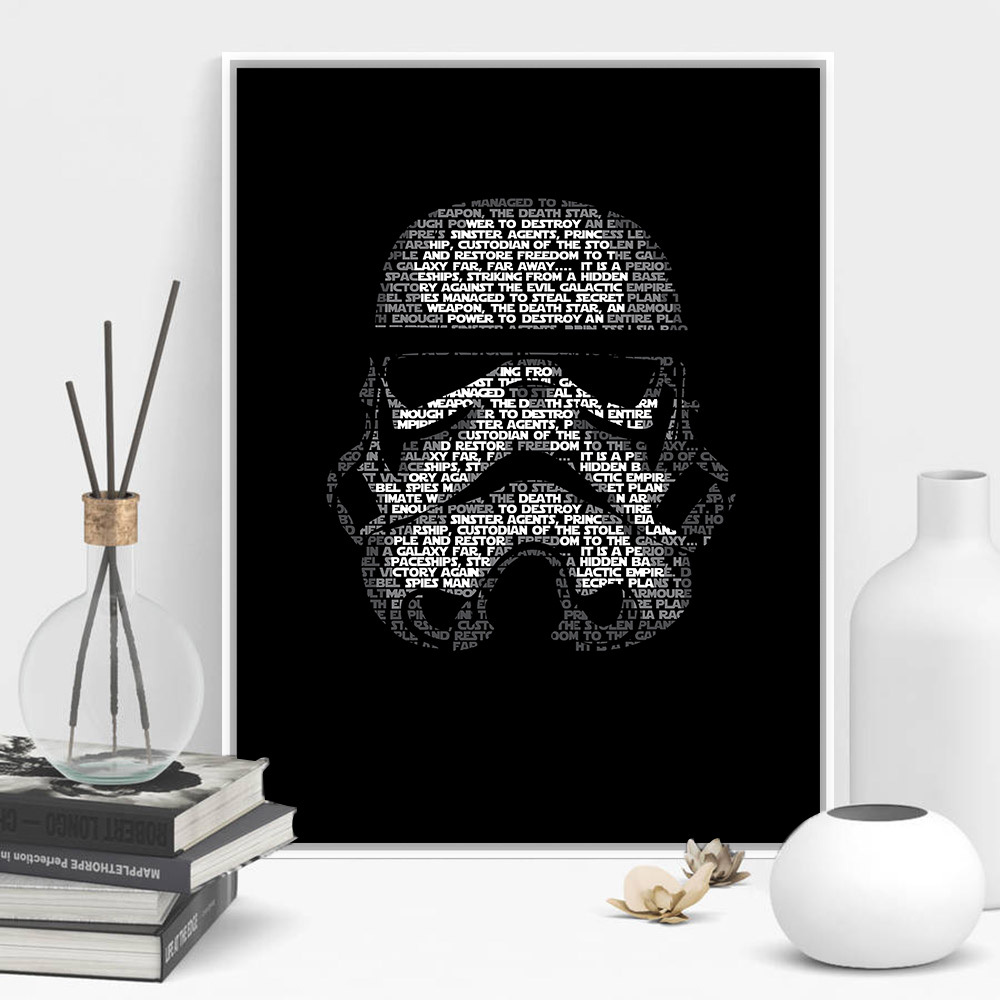 The minimalist design of this Stormtrooper helmet on its black background will make you appreciate the artistic side of these coldhearted Dark Side enforcers. He may be the bully on the block, but with this Star Wars canvas painting, even he can look at home hanging on a gallery wall…or in your own bedroom.
Star Wars 5 Piece Stormtrooper HD Canvas Painting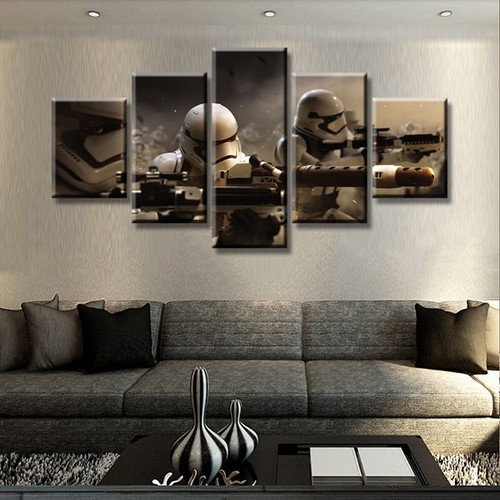 The Imperial might of the Stormtrooper is on full display with this set of five prints, depicting the heavily armed Dark Side brawlers about to blast their way through whatever and whomever chooses to oppose them. Rebels had better hit the deck when they see this elite hit squad coming through.
Star Wars AT AT Walker Canvas Painting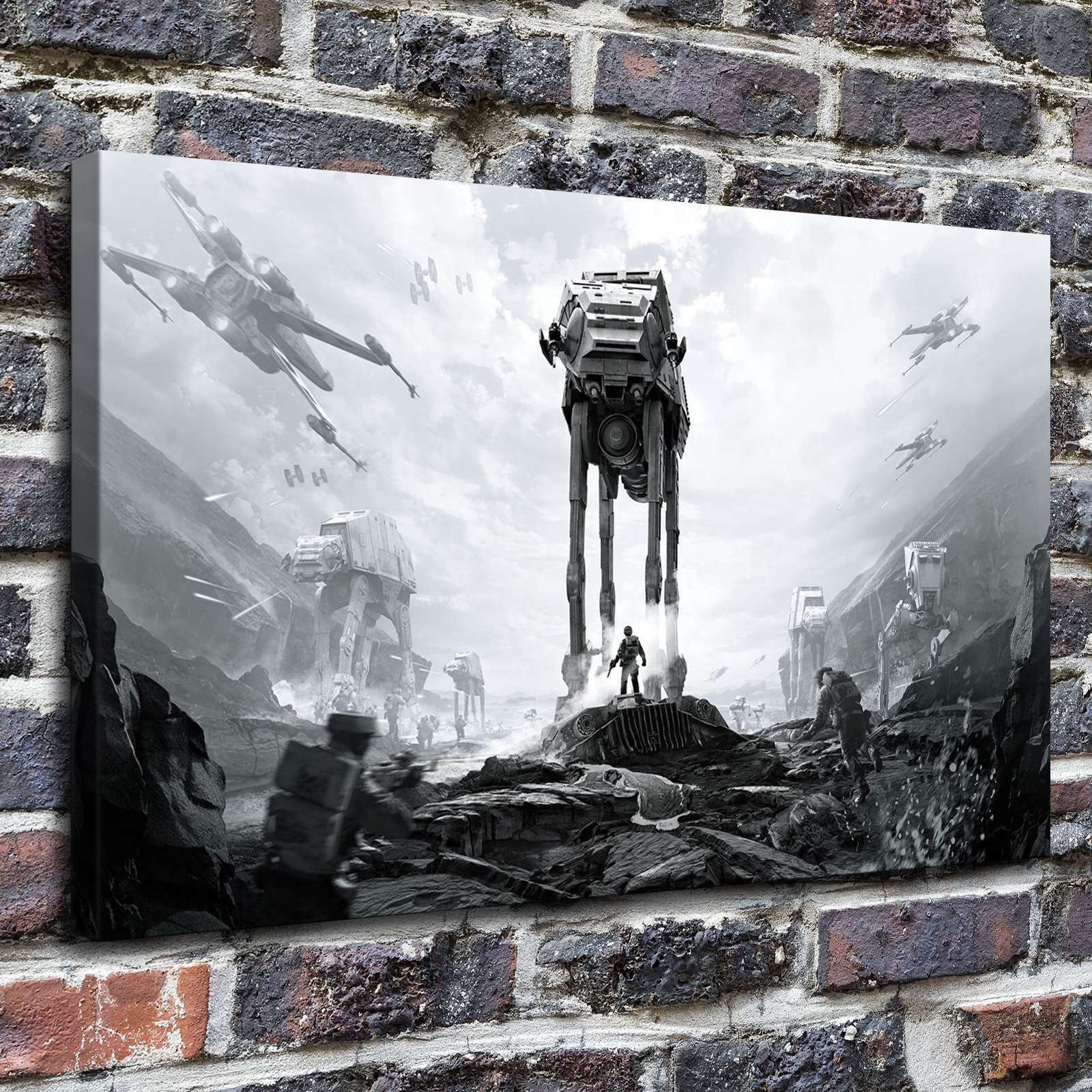 Immerse yourself in the battle for Hoth, with this Star Wars canvas painting that is guaranteed to get you in the mood for battle. Better draw your lightsaber, as an Imperial Walker is bearing down on you, with more looming behind him. Never fear, X-Wings are flying your way to provide some backup.
---
Views