The power of the Force will surely be with you with these Star Wars canvas art prints that will get your bedroom, living room, or cantina rocking. They're great conversation starters, and they're made of durable, high-quality material that is sure to last, even as you're making the jump to hyper-space.
Star Wars Tie Fighter Canvas Art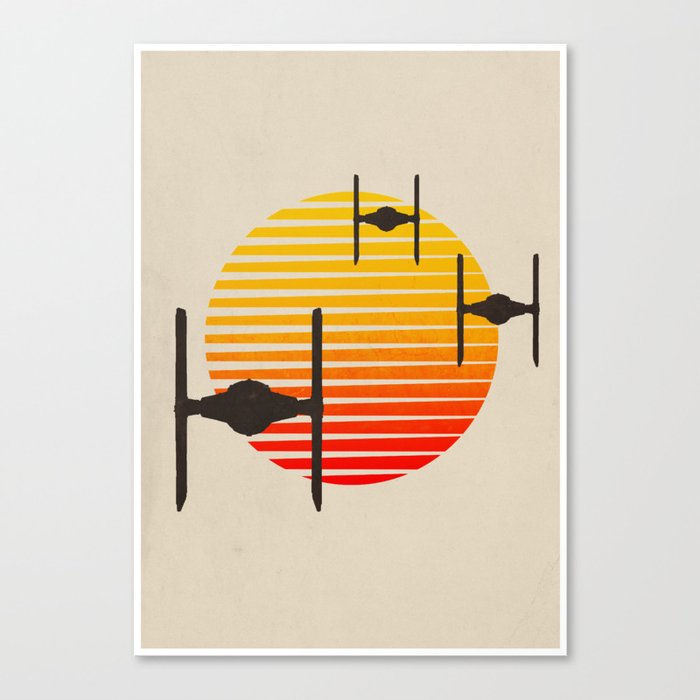 The Star Wars Tie Fighter is first up, with its three silhouettes of the iconic Imperial ships, looking like they're about to blast out of the picture. The dramatic red and orange sun highlights these feared spacecrafts, and will get you in the mood for a space battle.
Star Wars Da Vinci Trooper
Curious about the anatomy of a Storm Trooper? The da Vinci Storm Trooper print lets you examine the details of this Dark Side warrior. Just don't get too close…even if this specimen doesn't appear to have his trusted blaster handy, rest assured, it has to be somewhere close by.
Star Wars Rebel Princess Canvas Art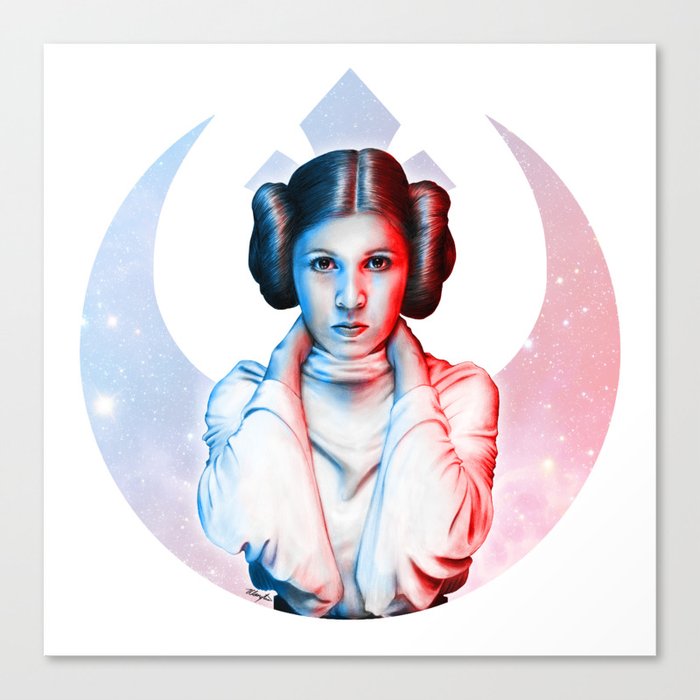 If you're in love with Princess Leia Organa, you're in good company. This sultry print shows the princess at her most appealing, and if you've got your Storm Trooper disguise handy, perhaps you can sneak up and rescue her. Just don't try and escape via the garbage shoot.
Star Wars R2D2 Droid Robot Canvas Art
With his loveable beeps and clicks, it's easy to empathize with R2D2. Here he is, ready to help out Master Luke, or his counterpart, C3PO. This print, with its bold red and blue coloring, is sure to brighten your day. He might even have a message for you in his dusty innards.
The Chrome Stormtooper Canvas Art
No Star Wars character projects more menace than the villainous Storm Trooper, and this guy is no exception. His expressionless metallic face plate let's you know that if not down with the Dark Side, you're in for some pain. He'll let your guests and family members know which side you're on.
Star Wars Young Fool Canvas Art
In this print, with its vivid green and black color scheme, the terrifying Emperor points his menacing hand at you as he threatens a terrible vengeance against any friends to the Rebellion. He has his sights set on Luke Skywalker and his friends, but be careful; you might be next.
Star Wars Bloody Stormtrooper Canvas Art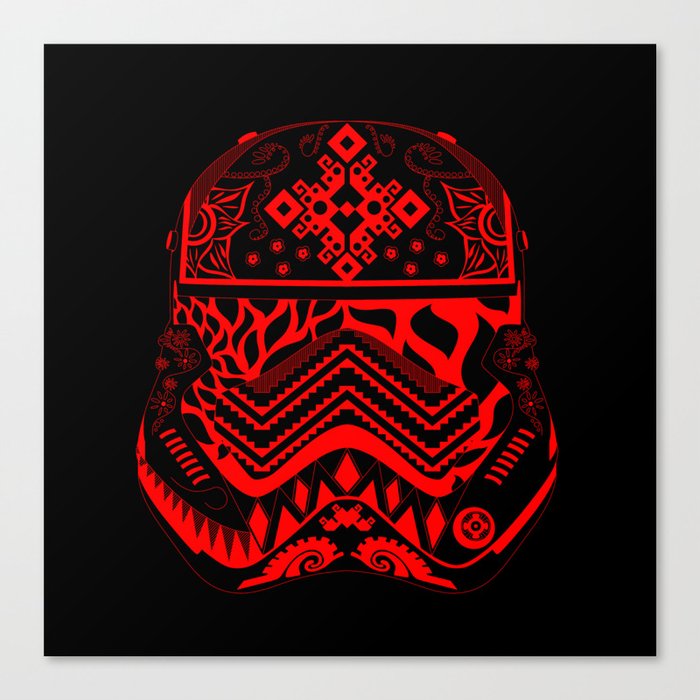 The Bloody Stormtrooper is the immediately recognizable helmet of the Imperial soldier, red on a black background. What might the Stormtrooper be thinking about? Most likely the slaughter of any who have chosen to oppose the Emperor, Darth Vader, and his beloved Empire. Those with a bloodthirsty streak will love this guy. It would be cool to place this Star Wars Canvas Art at home.
Star Wars Space Friend & Hero Canvas Art
The Space Hero and Friend print is white-on-black, a shot of Han Solo's enormous buddy, Chewbacca, the Wookie we all know and love. Chewie is captured in mid-growl, perhaps angry because C3PO won't stop running his mouth. Or it's possible he's trying to cough up a monster hairball.
Star Wars Yoda Star Canvas Art
The Yoda Star canvas print seems to convey a sense of calm and peace, as befits the wisest of Jedi masters. The tiny fountain of wisdom is shown here in green on a white background, seemingly at one with the Force, the almighty power that he feels flowing through us all.
Star Wars Quotes Canvas Art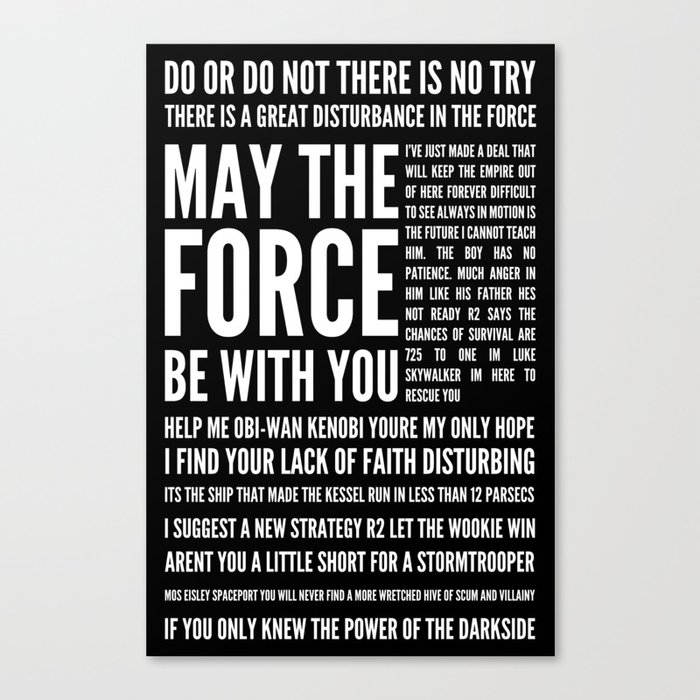 The Star Wars quotes print is a cool way to remember that there's no situation in life where a line from the saga won't apply. If you need wisdom, look up some advice from Yoda, or if you're feeling a little evil today, a Vader quote might be more your speed. Putting this Star Wars canvas art at your room to remind you every morning when you are lack of faith. May the force be with you!
---
More Star Wars Canvas Art On:
---
Star Wars Rogue One Alliance Empire Canvas Art
Star Wars Word Art Canvas
C3PO, R2D2, BB8 Canvas Art
Han Solo and Chewbacca Printed Canvas Art
Star Wars Kylo Ren Canvas Art
5PCS Framed Star Wars Yoda Canvas Art
Star Wars

Vintage

Millennium Falcon Canvas
Star Wars Darth Vader General Canvas Art
Star Wars Battle Canvas Art
Star Wars Galaxy Wall Canvas Art
Star Wars Darth Vader Canvas
---
Views