Even the Skywalker family keeps family heirlooms! These Star Wars bracelets are the perfect sentimental tokens for any Star Wars fans in your life! Each one of these masterpieces is constructed from Force-sensitive materials, allowing you to bring the power of the Light side or the Dark side with you everywhere you go! A Jedi wouldn't leave home without it! Sold from a galactic smuggler near you!
Darth Vader Skull Bracelet
If you like to spread imposing fear throughout a room, then this Darth Vader bracelet is perfect for you! The Dark Lord of the Sith himself would approve of this fashion statement! Now, you can use a Death Star, or this fashionable bracelet to send a message to the galaxy that the Empire reigns supreme! Includes an adorable gift bag.
Chewbacca Clicks Bracelet
Chewie's always been Han Solo's right hand man. Now, he can literally be on your right hand! This Star Wars Chewbacca bracelet will have all your wookie friends roaring with jealousy! These items come in small, medium, and large wookie sizes, and they never pinch any fur on your wrists! The next best thing to having your own wookie best friend!
The Last Jedi Luke Bracelet
This bracelet will Force pull everyone's attention straight to you! This Star Wars gem came from Luke Skywalker himself, and no, it's not a Force projection. The fabled Jedi has relinquished all material things, and that includes his favorite bracelet. But, ever the giver, he now wishes to pass this token onto you. Only a member of the Dark Side would turn this gift down!
Galactic Empire Bracelet
The Galactic Empire has always had the ideals of minimalism at heart, and these newly designed Imperial bracelets now show off that beautiful sentiment. Use these Imperial issue accessories to show your loyalty for the true reigning power in the galaxy. No Stormtrooper would be caught without one! Vader's favorite fashion statement!
Imperial Stormtrooper Bracelet
Show your solidarity with the most powerful military force to ever span the galaxy! The Stormtrooper helmet is a symbol of power in many worlds across the stars, and it can strike fear into the hearts of rebel scum on any day. This bracelet was made with that very same fear in mind. Keep this accessory on you at all times, and the power of the Empire will never leave you! Just remember, support the Imperial Army, and the Imperial Army will support you!
Stormtrooper Stainless Steel Bracelet
Not only is the Stormtrooper a symbol of power, it is also a symbol of style! No modern design could beat the classic sleek look that the Stormtrooper helmet captures so perfectly. And without any unique symbols or designs, this bracelet will help you blend in perfectly with all of the other Imperial loyalists! Afterall, the motto of the Empire is that it's always better to blend in than to stick out!
Woven Last Jedi Bracelet
Get your very own piece of Jakku's next biggest fashion trend! These woven bracelets are perfect for any sand salvagers in your family! Not only do they look good, but they also keep your wrists protected from those nasty desert winds! The next time you're hanging around the cantina, this bracelet will get you noticed faster than a rancor in a dejarik club! Rey's personal choice!
Kylo Ren Bracelet

Kylo Ren is recognized across the galaxy by his intimidating and unique set of armor. But very few know of the personal bracelet that he's worn since his days as a Padawan! This piece of apparel shows off Ren's modern, sophisticated fury, capturing the fear caused by his presence. And yes, even Sith Lords in-training wear bracelets!
Star Wars Chain Bracelet
Any Jedi worth their salt knows the beauty in simplicity. Now you can capture that beauty, by supporting the story that spans a galaxy with this simple, yet elegant Star Wars chain bracelet. These chain links are so well made that only a protocol droid could pick out any imperfections! Made from stainless steel from the deepest of Datooine crystal caves.
---
More Star Wars Bracelets: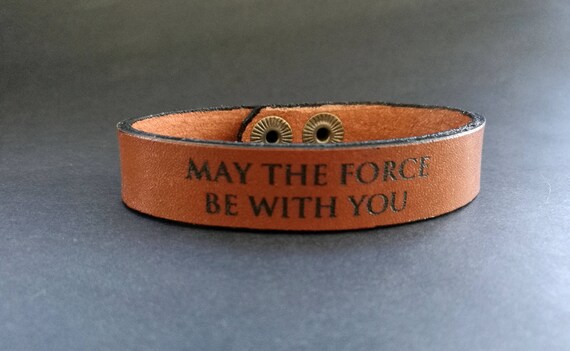 Views